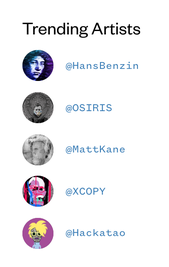 Sharing with you a short update on what happened recently. 
We updated our portfolio. Some artworks have been (temporarily) taken from the market to strengthen focus on newer artworks. With this update also comes an update to our Main Gallery in the Virtual World Cryptovoxels.
We also successfully applied for a Cryptovoxels Gallery Tour that is currently organized via the social network cent.co. Curious about what will happen there next.
Oct 31th 2019 was a very good day regarding art sales on CryptoArt-Platform SuperRare. An artwhale was spotted and placed bids on a lot of artworks. Seven of them were from Hans Benzin and we accepted all of them. These sales pushed Hans at first onto No. 2 and the next day onto No. 1 of the trending artists charts at SuperRare <3 
Besides that, we opened up an Art Print Shop where we offer Open Edition Prints of some of our artworks in different sizes and types. First and foremost we offer Art Prints (framed and not framed), Canvas Prints and Gallery Prints. The store is hosted by Redbubble and offers worldwide shipping! [ Update 2020-02-05: The Shop has been closed as we're following a new strategy regarding prints. If you're interested in prints until they become officially available again, please contact us. ]
Recent Cryptoart Purchases
Recently we've acquired 2 Crypto-Artworks that can be viewed in our 2nd Gallery in Cryptovoxels. (Please also note the "SpyFly" Sculpture we installed there recently. It's part of a Cryptovoxels project by Crypto Artist XCOPY.) One of these artworks is called "RSF-1-005 Spin and Spin and..." and a collaborative work between Mattia Cuttini + 0xbull after a work of the former. It is a limited edition of 10 and sold out meanwhile. If you'd like to place a bid on the artwork, you can do so by using the following link, that leads to the marketplace OpenSea.
The other one is a CryptoSkateboard by artist Marko Zubak/Mlibty, that also can be viewed in the said Gallery. It is a Limited Edition of 12 with 3 available at the time of writing via Mintbase (or OpenSea). 
"MLIBTY" stands for "My Life Is Better Than Yours" and I really like that :) Please check out his work on his website and one or more of his galleries in Cryptovoxels, in any case this one!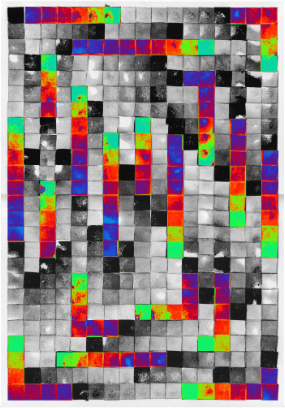 That's it for today. See you next time. 
PS: I'd love you to sign up for our newsletter. We will only e-mail you once every few weeks if we think we have something to share that might interest you.