Thanks to the support from our partners at Roll our Social Money RADAR ($RDR) is now available at the Decentralized Exchange (DEX) Uniswap and the DEX for Social Money that has been build by the Roll-Team - exchange.tryroll.com - that's also based upon the Uniswap Technology. 
You can now trade RDR against ETH and every other Tokens listed on Uniswap, including other Social Money. This listing opens up whole new possibilities for using RADAR for the Hodlers, our Community and for us as an Issuer. 
Anyway, to be able to trade RADAR on these exchanges you will have to hold it in your wallet (like MetaMask) (and not on the Roll Website/App.)
We'll sum up everything that can possibly be relevant regarding RADAR, like it's use cases, how to trade it and and Uniswap Technology at the special page we've set up for RADAR: www.proofofartwork.com/radar
Expect this page to become more complete in the coming days and weeks.
In short: When you want to learn more about Uniswap and it's unique mechanisms, on how to become a so called liquidity provider and what all that means, please visit: A Graphical Guide for Understanding Uniswap and/or Uniswap: How To Add Liquidity and Start Collecting Fees!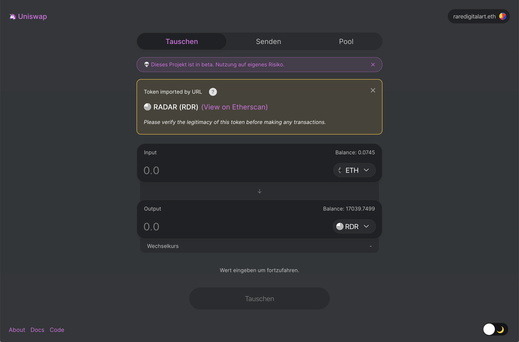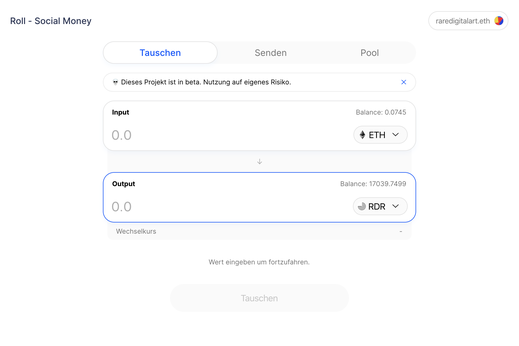 You can find RADAR directly in the drop down menu at Roll's Social Money Exchange. When you'd like to trade $RDR directly on Uniswap, you'll need to search for a custom token and paste in the following contract address there: 0x3C9Ca73d5309d38c6F2C21b78b9aE1f4b2441188
Alternatively you can use to following this link, which results in a state where RADAR will be preselected as the output currency.
Anyway, the first time you want to trade RADAR on Uniswap or the Roll-DEX, you will have to enable it first for trading, completing small transaction. (There will appear an according pop up with our wallet (like MetaMask for instance.) 
The most important change coming with the listing is, that we made $RDR and exclusive payment option at our Open Sea Storefronts for our Projects CryptoPortraits, POAWcontracts and our general PROOFofARTWORK Contract. (Applies not for auctions that have been started before the DEX-Listing.)
In this context we also updated our $RDR-Rewards at the Roll-Website, making it more diverse. Besides that, all NFTs offered in the stores just mentioned can be considered to be $RDR-Rewards now.
As we have a fully operational RADAR Ecosystem now, it was a good time to reward early Collectors of our art as far as engaged supporters. So if you're belonging to these, you may find a serious amount of RDR in your wallet.
Thanks everyone who is on this journey with us! 
Reach out to us if you have any questions.
Rewards overview