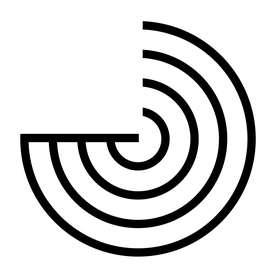 Following the example of some great innovative artists of the crypto art community, we're releasing a so called Social Money! It's goes by the name of RADAR (RDR) and came to life on the Ethereum Blockchain with the great help of Roll.
RADAR will be used as a kind of an Art Collectors Loyalty Program and to incentivize social actions of different types, that are intended to help to fulfill our mission. Finally, you will be able to purchase exclusive offers, like special crypto artworks, with RADAR. The first rewards that you can get with RADAR will be released soon!
The parameters of RDR
The supply of RADAR is limited to 10 MM RDR that ever will be created. 2 MM RDR have been released at the date of launch to our wallet for the release to our followers. Over the period of the next 36 month 6.8 MM RDR will be vested to our wallet. 1.2 MM (12%) is held by Roll and used to help grow the community.
Based on the Ethereum Blockchain
RADAR came to life as a token based on the cryptocurrency Ethereum (ETH), the second largest cryptocurrency to date by market cap after Bitcoin (BTC). Ethereum uses blockchain technology and is "a global, open-source platform for decentralized applications". Please visit ethereum.org if you want to learn more about Ethereum.
If you'd like to get a short non-technical introduction into blockchain technology and cryptocurrencies and why it's so revolutionary, we recommand to watch the following 11:21 minute long video interview with Naval Ravikant: 
Ethereum is also the technology, that's behind the rare digital artworks that we and others are releasing as limited editions on platforms like SuperRare, the Social Network Cent and many more in the space of digital art respectively collectibles and way beyond. 
To interact wth the Ethereum Blockchain or a dApp (decentralized application), you will need a digital wallet like Metamask, Trustwallet or Status (on mobile). You may even need some Ether, that can be purchased through exchanges like Coinbase (No affiliation, they are just some kind of popular.) and then be send to your wallet. The following video by MetaMask explains very well on how to handle all this and what to think of to keep your cryptocurrency safe and secure.
As our Social Money RADAR is based upon the Ethereum Token Standard ERC-20 (there are some other standards available with Ethereum, but more on that on another post maybe someday), the common Ethereum wallets are able to handle RADAR as well. So you can hold RADAR safely in your wallet, as well as send, receive and spend it (where it is accepted, more on that later).
Please note that you don't need an extra wallet to receive and handle RDR necessarily, as you just can use Roll therefore.
How to add the RDR-Token to your MetaMask Wallet?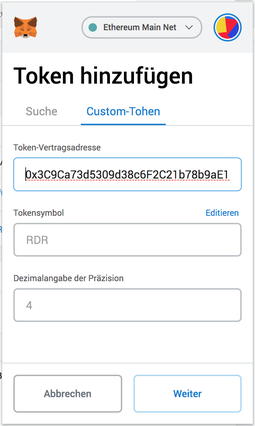 If someone has send RADAR to your wallet, you will have to add a Custom Token to your wallet, so that you are able to see and use your RADAR. To do so, follow the following steps where we have used the MetaMask Wallet as an example.
 Click on the Menu
Scroll down and click on "Add token" (or "Token hinzufügen" for the German users)
Click on Custom Tohen / Token (Typo here, somebody needs to fix this)
Copy and past the following Token Contract Address in there and click on Continue (or "Weiter"), Token Contract Address: 0x3C9Ca73d5309d38c6F2C21b78b9aE1f4b2441188
Confirm
Done
How to get your first RADAR?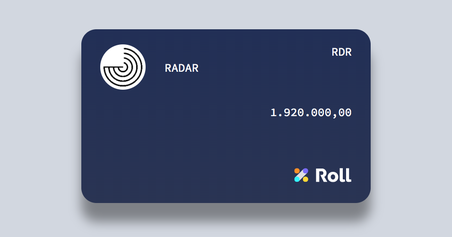 Besides some exklusive and limited offers we make to those who follow us on our social channels, you can get some $RDR simply by clicking this link. (You will have to make an account with Roll if you haven't done this already.) You are also able to claim some RADAR by subscribing to our newsletter.
(Our newsletter will be send out only once in a while every few weeks or even month. We will only share some bigger news, offers (or possibilities to claim some RADAR ;-) where we think that it might be of interest for someone who's interested in crypto art or art in general.)
There will be a corresponding link on the page that comes with the confirmation of your newsletter-subscription. On this page there will also be another hint for another way to claim some more RADAR.
Very excited to share this journey with you. Let's see where this leads us.
The first rewards that you can get with RADAR will be released soon! So stay tuned.
Please consider this as an experiment. This is no investment opportunity in any way. 
If you have any questions, just send us a message.