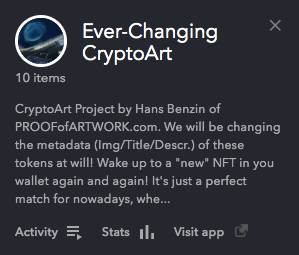 We just launched the Ever-Changing CryptoArt Project (ECCA). ECCA is an NFT-Store respectively Marketplace, where we offer Non-Fungible-Tokens (more about NFTs), that come with a special feature. While the tokens, based on the Ethereum ERC721 standard, are non-fungible itself, their associated metadata (image/title/description) is not in any case. And within this project, we will be changing the metadata of the tokens itself, at will!
This is an interesting aspect, as most Crypto Art and other NFT-Collectors probably assume, that they are buying an immutable piece of digital art (or whatever it is, that's associated with the token they buy), secured by (established and secure, as far as it can be to date) blockchain technology.
How non-fungible are Non-Fungible Tokens really?
But as long as the metadata is not stored "on chain", so on the immutable blockchain, it is not immutable at all. The metadata can then be changed or deleted, at least in theory, anytime. The token, without the associated metadata, could be considered more or less worthless then. Very interesting as far as you know, that some people invest several thousand dollars into some single NFTs.  
We do not want to go into too much technical details here now. If you're interested in the discussion, please see this twitter-thread, we started some days ago. 
Demonstrating the Concept with an own NFT-Store
The Ever-Changing CryptoArt NFT-Store, that can be found on OpenSea (Screenshot below), is some kind of a conceptual artwork itself, that allows you to experience the concept of NFTs + non-immutable metadata yourself. 
On 21th November 2019 we offered the first 10 ECCA-Tokens (5 for free, 5 for a quite low price of 0.05 ETH) and they have been "sold out" within about 1.5 h. The first version of the token's metadata were 10 AI-generated artworks from the studies folder of artist Hans Benzin.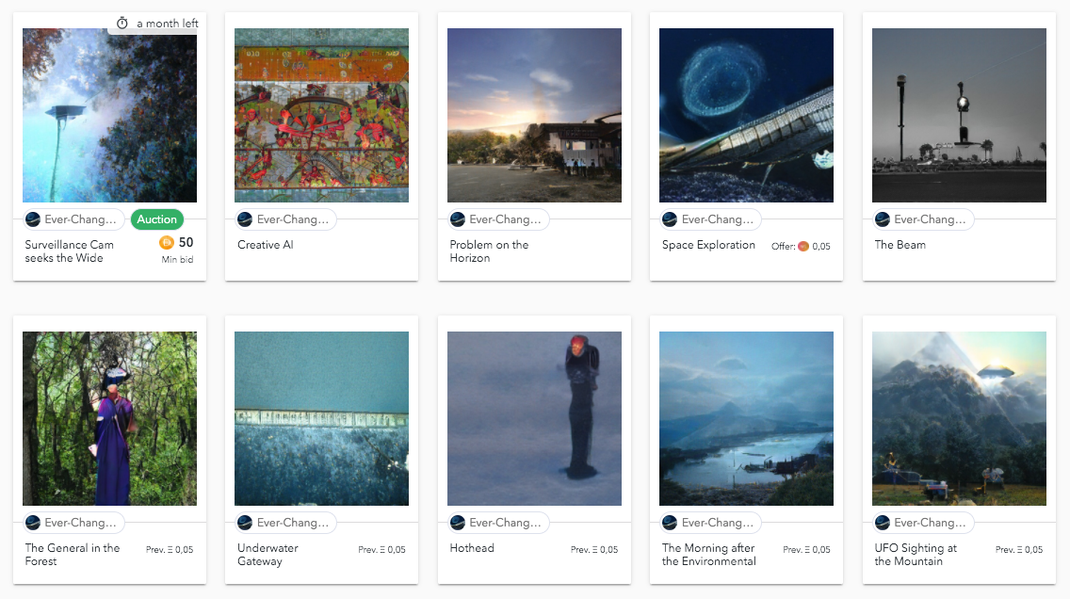 Building a Never seen before "Advertising Network" (You can Rent)
With the project's launch, we offered 1000 $RDR for each of the early adopters that claimed/bought the first release tokens. With sending the RDR to the early adopters, we already took advantage of the project's capabilities and changed the image associated with the token to one with a message for the early adopters.
That way we could increase the probability that they learn of their luck, as the RDR-Token has to be added manually to ones wallet to appear in the list of their holdings. On the other hand, this was a possibility to quickly deliver the evidence, that we're able to change the NFT's metadata (in a quite useful way in this case btw.) after selling them, as this has been doubted by some until then. 
This way we turned the underlying smart contract into some kind of a powerful advertising network, that allows us to communicate with the ECCA-Holders just with sending messages right into their wallet.
This not just emphasizes the whole concept, but offers whole new business opportunities to emphasize it even more. Therefor we offer this network we just build for rent! (Get in touch with us if you're interested in doing so. Fees have to be paid in $RDR. Art-promotion only.)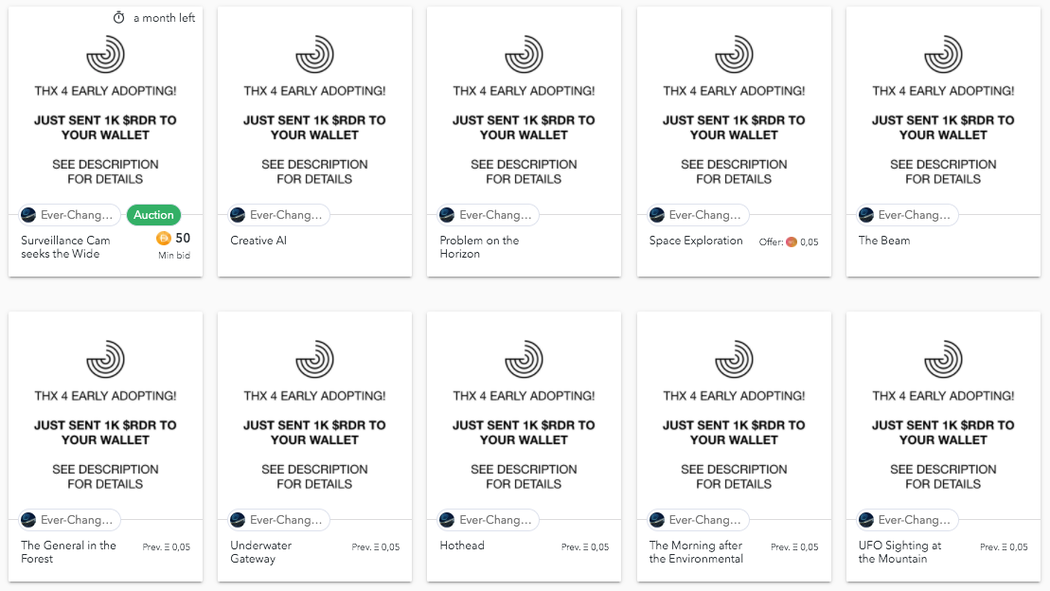 What's next for ECCA?
As the future is uncertain and "the path created while you walk it": Let's see what pops up in the wallets of the ECCA-Hodlers next. Until further notice we will continuously be releasing new ECCA-Tokens, with the price doubling with each release. (You can place offers on the first release tokens on OpenSea now if you want to have a chance to get them more or less cheap while you can. Anyway they won't get any cheaper in the future.)
We also setup up a special page on our website (proofofartwork.com/ecca), where we will be collecting all information about the Ever-Changing CryptoArt Project and are planning to document the changes made to the metadata of the tokens in some kind of a publicly accessible/viewable database. 
While we will keep communicating with the ECCA-Hodlers through this newly established network itself, we recommend signing up for our occasionally send, no-bullshit newsletter. Not only will you receive some of our Social Money RADAR (RDR) for signing up, all subscribers will be notified first when new ECCA-Tokens will be released and will therefore be able to get some at a significant discount.
Sharing is Caring Bounty
We'd like this message to spread as wide as possible, as we think that it's important to know how NFTs + Metadata and corresponding Smart Contract Design work in detail (to a certain degree). Especially for those who are issuing and buying NFTs. So we're offering a sharing bounty, that works as follows:
1. Get 500 RDR for liking and retweeting this tweet (that leads to this article).
2. Get 500 RDR for sharing this article on other social networks
3. Get 10.000 RDR for writing a blogpost about the ECCA-Project (Has to be 250+ words and to be published on an active blog/website with proven history. Until further notice limited to 10 participants and 1 release on platform Cent. First come, first served.) 
As the cheapest RDR-Reward to date is 10.000 RDR, supporting the project with writing a blogpost would make you able to claim this one right away!
Please finally DM/send us your ETH-address and please include evidence of your share for option 2 + 3.
Offer is valid until 2020-01-01
Thank you very much in advance!
Contact us for any questions.