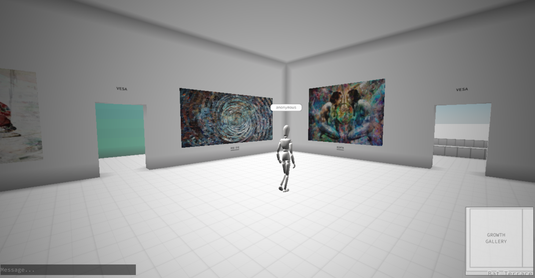 Shortly after launching our first Virtual Reality Art Gallery in Cryptovoxels, we launched a second one!
As the prices for parcels in Cryptovoxels and the USD-price of Ethereum itself are still low (personal feeling / no financial advice), we thought it is a good idea to invest in a 2nd parcel.
Further more, owning a second Virtual Art Gallery opens up a lot of new possibilities. We are planning to host changing exhibitions in there and are very free to design those, independently of the operations of our main gallery.
We also would like to support artists, who don't have the possibilities to show their work in a Virtual Reality Environment, but are interested in doing so. So if you are interested in showing your work there, please contact us!
For the start we are honored to be running an exhibition with Berlin based artist Ilan Katin (ilankatin.com), the famous Crypto-Artist VESA (artforcrypto.com) and Hans Benzin.
The new Gallery is called GROWTH GALLERY and it's address in Cryptovoxels is:
GROWTH GALLERY
26 Ron Road
Kitties
Origin City
You can visit it without the need to register or login via the following URL:
https://www.cryptovoxels.com/play?coords=252E,159S
(It's also VR-Ready and works with common VR-Devices such as Oculus Go, Gear VR, Oculus Rift and HTC Vive.)